---
APEC - Tsukuba International Conference V:
Innovation of Classroom Teaching and Learning through Lesson Study
- Focusing on Mathematics Textbooks, e-Textbooks and Educational Tools -
Date: February 16 - 20, 2011
Venue: Tokyo & Tsukuba, Japan
---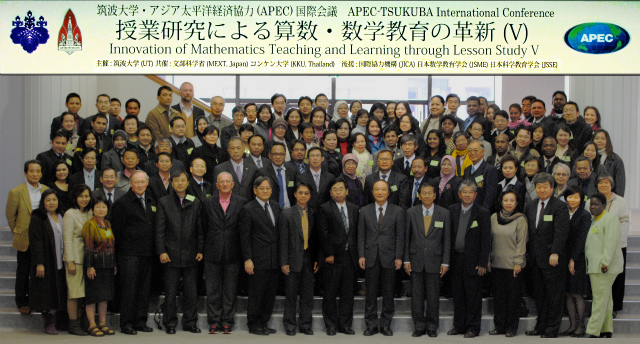 [Photo]
Second Announcement for APEC-Tsukuba International Conference V
Since 2006, 19 APEC member economies have been participating in the APEC-HRDWG Mathematics Lesson Study project proposed by Japan and Thailand. It has great influence on the establishment of Lesson Study Movements in other subjects such as Science and English as for second language.
For the innovation of teaching approaches with computer, the conference focuses on textbooks and educational tools in mathematics, especially e-textbooks as for newest tools in teaching mathematics.
The targets of the conference are as follows:
Q1. How do you use your textbooks in your country?
Sharing the methods of teaching with textbooks and knowing theories on curriculum and textbooks
Q2. How can we use our textbooks meaningfully?
Elaborating the model approaches using textbooks to develop mathematical thinking and communication
Q3. How do you use blackboards and projectors in your country?
Sharing the various ways of utilizing traditional equipments in classroom such as blackboards as well as projectors and computers
Q4. How can we innovate our teaching approaches for teachers?
Knowing the innovative tools to develop e-textbooks and sharing the methods of teaching
The conference focuses on mathematics. At the same time, these topics are meaningful for other subjects, educational technology and ICT education on the context of lesson study.
| | |
| --- | --- |
| Organized by: | University of Tsukuba |
| Co-organaized by: | Ministry of Education, Culture, Sports, Science and Technology Japan |
| | Khon Kaen University, Thailand |
| Supported by: | Japan International Cooperation Agengy (JICA) |
| | Japan Society of Mathematical Education |
| | Japan Society for Science Education |
News and Reports
Flyer for Mathematics Textbook by Gakko Tosho
Study with Your Friends MATHEMATICS for Elementary School: New Ediotion
[PDF]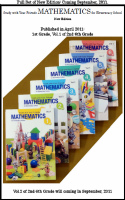 Schedule for APEC-Tsukuba International Conference V
Arrival Day: Feb. 15 or 16, Tokyo
Special Program for communicated people
| | |
| --- | --- |
| Feb. 16: | Editorial Meeting for the Math Textbooks at Gakko Tosho (Arrival day might be Feb. 15) |
| Feb. 16 evening: | SEAMEO-Tsukuba Business Meeting at Meikei Kaikan (Arrival day might be Feb. 16 morning) |
Tokyo Session, Lesson Study and Workshops
Feb. 17: First Day
Morning Session at Elementary School, University of Tsukuba
Participation to the World Largest Lesson Study Meeting
Mathematics Classes

Takao Seiyama: To think writing and reading communication of mathematics through application problem of the area of circle
[Lesson Plan-PDF]
Yasuhiro Hosomizu: To improve representational and thinking skills through "Representation, Reading and Calculation of expressions"
[Lesson Plan-PDF]


Science Classes
(translated into Thai by Thai participants)
Afternoon Session at Ochanomizu University
13:00 - 13:30
Plenary Session
Greetings and explanation of schedule from Masami & Maitree
13:30 - 17:00
Parallel Session
General Session: Workshop

How to utilize blackboards and notebooks for developing representation
Hiroyuki Ninomiya (Saitama University)
Hitoshi Kamoda (Kumagaya Higashi Elementary School)
[Presentaiton-PDF]


Specialist Session: for the specialists who prepared their presentation for Q1 & Q2

Group 1 :
Chair: Kwang-Ho Lee (Korea National University of Education, Korea)

Group 2 :
Chair: Cheng Chung Chor Litwin (Hong Kong Institute of Education, Hong Kong)

Group 3 :
Chair: Ali Hamdani HM Diah & Ibrahim Hj Abd Rahman (Ministry of Education, Brunei Darussalam)

Evening: Reception for All at Meikei Kaikan (Invited by President)

Feb. 18: Second Day
Morning Session, at Junior High School at Otsuka, University of Tsukuba
In relation to Q2 & Q4.
Challenge of Lesson Study using computers and projectors
Mathematics classes
Masami Isoda (University of Tsukuba): Exploring Linkages with Geometry
[Lesson Plan-PDF]

Yeap Ban Har (Marshall Cavendish Institute, Singapore): Exploring Polygons on Electronic Geoboard
[Lesson Plan-PDF]



Science classes
(translated into Thai by Thai participants)
Afternoon Session at Ochanomizu University
13:00 - 13:25
How to develop e-textbooks by dbook
Masami Isoda
13:30 - 17:00
Parallel Session
General Session: Workshop

Curriculum through Extension and Integration
Masami Isoda

Specialists Session: for the specialists who prepared their presentation for Q3 & Q4

Group A: Traditional Board & Projector with internet content & e-textbook
Chair: Ivan Vysotsky (Moscow Institute of Education, Russia) & Maitree Inprasitha (Khon Kaen University, Thailand)

Group B: Traditional Board & Projector with Dynamic Geometry
Chair: Chap Sam Lim (Universiti Sains Malaysia, Malaysia)

Group C: Traditional Board & Projector with Graphing Tool
Chair: Rohani Ahmad Tarmizi (Universiti Putra Malaysia, Malaysia)




| | |
| --- | --- |
| Presentations on 17th and 18th, February | |