---
Fourth APEC - Tsukuba International Conference:
Innovation of Mathematics Teaching and Learning through Lesson Study
- Connection between Assessment and Subject Matter -
February 17 - 21, 2010
Tokyo, Japan
---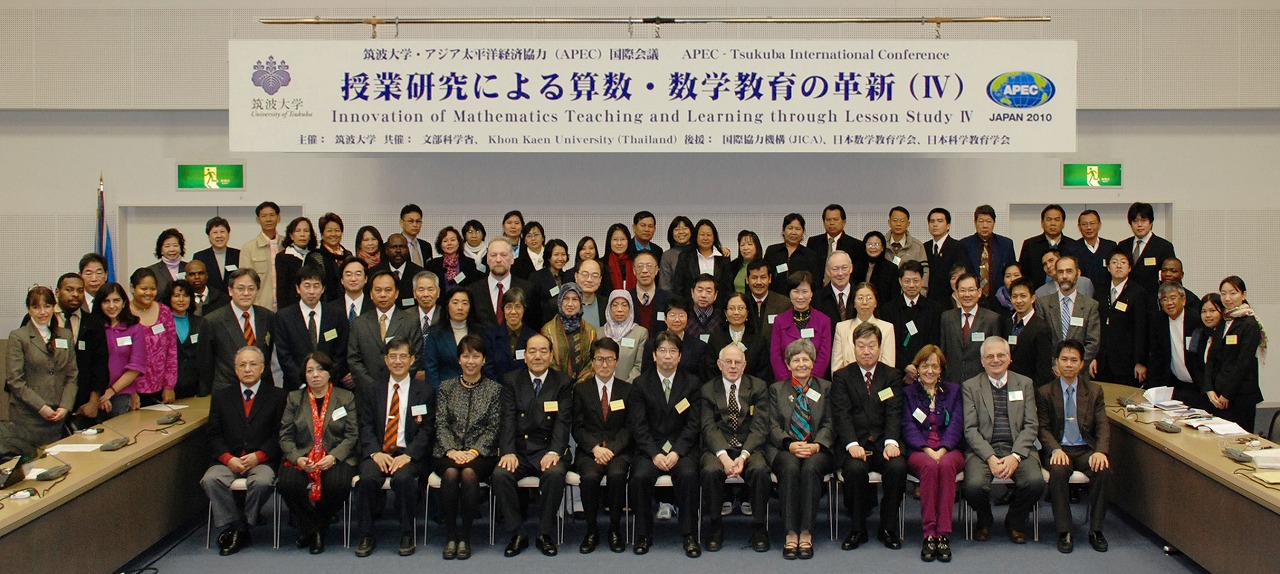 [Speakers]
[Speakers and Right Wing]
[Speakers and Left and Center Wing]
Abstract
As an extension of APEC HRD Lesson Study project 03/2006, 02/2007, 02/2008 under the Ministry of Education, Culture, Sports and Science, Japan and the Ministry of Education, Thailand, 'Lesson Study for Implementing Curriculum: Developing Innovative Assessment Problem' was accepted in the APEC HRD Chicago meeting as the project HRD 01/2010s for improving mathematics and science teaching which was recommended by the Ministerial Meeting in Lima, 2008.
Through the previous projects in APEC HRD working with Khon Kaen University, Thailand, Lesson Study, originated in Japan in the last quarter of 19 century, is now a well-known approach in the world for the action research in classroom by teachers and used for curriculum development and implementation, developing innovative teaching approach as well as facilitating teachers' professional development. For the project HRD 01/2010s, we are pleased to inform you that the University of Tsukuba is going to hold the conference as the schedule below. In the context of previous projects, we already have the leading specialists from participating economies. At the same time, it would be an honor for us if each economy could send us key specialists, supervisors and teachers who may support the lesson study movement in your economy.
As well as previous projects, the project follows the plan, do, see and applying processes. The conference managed by University of Tsukuba aims to plan. After the conference, each specialist is expected to engage in the lesson study project in each economy and will report at the conference managed by Khon Kaen University, Thailand, in August, 2010. The applying includes contribution to the APEC HRD knowledge bank.
The Schedule of Lesson Study Project Meeting, APEC HRD 01/2010s
| | |
| --- | --- |
| February 18-19, 2010; | Lesson Study and Specialists Session in Tokyo Campus of University of Tsukuba |
| February 20-21, 2010; | Open Symposium at United Nations University |
Important note for project meeting
This is the project meeting for learning each other and preparation of project.
APEC-University of Tsukuba Conference is the planning phase of this year. Specialist will scope your project in your economy in relation to the project. Our scope may be enough large for your participation if you may have interest in improving classroom practice based on lesson study. Next conference, APEC-Khon Kaen University Conference, will be held in November at Chiang Mai University for reporting your result.
Participants: You have 5 min presentation during group activity in 18th and 19th. Please prepare materials (content) in relation to the questions on 18th and 19th.
Specialists: Speakers have the obligation to prepare minimum 5 pages papers (including example) and ppt files for your presentation at arrival days on 17th. The paper is not necessary newly write. It will be distributed at the conference and website (CRICED, CRME and APEC HRD Wiki site) as a part of the project result. Your title of lecture will be fixed on 17th by your submitted papers title. In case you will explain lesson study, showing Video less than 5 min, it will be helpful for other participants. It will be also shown through the website.
February 17th Arrival day
February 18th Specialist session 1: Elementary School and Tokyo Campus
8:30-9:30
Explanation of Lesson Study and observing lessons just for new comers and teachers
9:30-10:00

Explanation of the project work

10:00-11:00
Preparing Transceiver, Move, Registration and Take Sheets
11:00

Attend the Lesson Observation of Science


(Please expect the meaning of extremely clouded and enthusiasm of Japanese lesson study)

Teacher: Mr. Tatsumi SUMI (Science Department, Attached Elementary School to University of Tsukuba)
12:30
Lunch Break
(Lunch Boxes: 1000 yen)
13:30-16:30

How can we improve the lesson through the assessment problems?


a) Masami & Maitree shows samples for discussion.
b) Divide into group and discuss about problems of your economies.


Please bring the assessment test problem in your country for your discussion.


c) Lecture: Japanese Lesson Study by Masami Isoda
Lesson Study for Developing Students for/by Learning by Ourself
   [Presentation]
d) Nominate the reporters


* Homework for Reporters: discuss and prepare 10 min presentation at 21st open conference for Soledad Ulep.

(17:00-19:00
Project Meeting about Publications:
Chair: Yeap Ban Har and Cheng Chun Chor Litwin
Bring your proposal for working to gather. )
February 19th Specialist session 2: Elementary School and Tokyo Campus
8:30

Attend the Lesson Observation of Mathematics


(Two classes)



Teacher: Mr. Yasuhiro Hosomizu (Mathematics Department, Attached Elementary School to University of Tsukuba)

Teacher: Mr. Kei OONO (Setagaya Elementary School attached to Tokyo Gakugei University)
12:30
Lunch Break
(Lunch Boxes: 1000 yen)
13:30-16:30

How can we improve the lesson through teacher education materials?


a) Masami & Maitree shows samples for discussion
b) Divide into group and discuss about problems of your economies.


* Please bring the teachers guide book in your country for your discussion.


c) Lecture: Japanese Lesson Study by Masami Isoda
Lesson Study for Developing Students for/by Learning by Ourself
   [Presentation]
d) Nominate the reporters


* Homework for Reporters: discuss and prepare 10 min presentation at 21st open conference for Ui Hock CHEAH.

(17:00-19:00
Project Meeting for New Project
Chair: Maitree and Masami)
February 20th Major Topic: Reform Movements on Assessment
9:00
Open the building
 
Chair: Masami Isoda (University of Tsukuba, Japan)   [Photo]
9:20

Opening Ceremony


Nobuhiro Yamada, President of the University of Tsukuba       [Photo]
Masayuki Shibata, Director, Ministry of Education, Japan       [Photo]
Shigeru Nakamura, Ambassador, Ministry of Foreign Affairs, Japan   [Photo]
Benjalug Namfa, Director, Ministry of Education, Thailand       [Photo]
9:40-9:55

Photo Session

9:55-10:15

Opening Lecture


Lesson Study Project for APEC Economies,
Alan Ginsberg    [PDF]   [Photo]
 
Chair: Katsunori Hattori (Naruto University of Education, Japan)   [Photo]
10:15-10:55

Keynote lecture 1: World Movement


Kaye Stacey (University of Melbourne, Australia)
PISA Mathematics Assessment
  [Presentation]   [Photo]
11:05-11:55

Keynote lecture 2: Proposal from Japan


Shizumi Shimizu (Teikyo University, Japan)
Reform through Japanese Assessment Problems
  [Presentation]   [Photo]
12:00-12;30

Keynote lectures: Remarks from Project Side




Kittichai Triratanasirichai (Vice President for Research and Technology Transfer Affairs, Khon Kaen University, Thailand), Maitree Inprasitha (Khon Kaen University, Thailand)
How can we evaluate the achievement of lesson study? Case study on Thailand
  [Presentation]   [Kittichai Photo]   [Maitree Photo]
Masami Isoda (University of Tsukuba, Japan)
Lesson Study for Implementing Curriculum: Developing Innovative Assessment Problem
  [Presentation]   [Photo]

12:30-13:30
Lunch Break


(Lunch Meeting with Lunch Box (1000Yen): Only for Specialists About this year's works (1): Chair. Peter Gould)

 
Chair: Tatsuya Mizoguchi (Tottori University, Japan)   [Photo]
13:45-15:45

Lectures: On Going Reform of Assessment in Each Economy




25 min. each

Shiqi Li (East China Normal University, China)
Developing Deep Understanding of Mathematics Teaching
  [Presentation]   [Paper]   [Photo]
Sung Sook Kim (Paichai University, Korea)
Assessment of Mathematics in Korea
  [Presentation]   [Paper]   [Photo]
Yeap Ban Har (National Institute of Education, Nanyang Technological University, Singapore)
The Changing Face if Assessment in Singapore: The Case of Mathematicsin Primary Schools
  [Presentation]   [Paper]   [Photo]
Madihah Khalid (Universiti Brunei Darussalam, Brunei Darussalam)
Improvement of Teaching from improvement of Assessment Test: Challenges   [Presentation]   [Paper]   [Photo]

15:55-17:30

Sharing Experience of the lesson study: What going on?




15 min. each

Aishah Husain, Ali Hamdani DIAH (Department of Schools, Ministry of Education, Brunei Darussalam)
Enhancing Professional Development of Brunei Teachers through Lesson Study: A Preliminary Study
  [Presentation]        [Aishah Photo]   [Ali Photo]
Iryanti Puji (SEAMEO QITEP in Mathematics, Indonesia)
The Expectations of Implementing Lesson Study in Mathematics Education in Indonesia
  [Presentation]   [Paper]   [Photo]
Lim Chap Sam (School of Educational Studies, Universiti Sains Malaysia, Malaysia)
Sharing Experience of doing Lesson Study: What is going on in Malaysia?
  [Presentation]   [Paper]   [Photo]
Yuriko Yamamoto Baldin (Universidade Federal de Sao Carlos, Brazil)
The Lesson Study as a strategy to change the paradigm of teaching mathematics: A Brazilian experience
  [Presentation]   [Paper]   [Photo]
Monica Mayumi Miyagui (Ministry of Education, Peru)
Research of Lessons with On-site Monitoring
  [Presentation]        [Photo]

17:30
Move to the reception room
17:45-
Reception by University of Tsukuba
February 21st Major Topic: Developing Materials for Teacher and Students
 
Chair: Takuya Baba (Hiroshima University, Japan)   [Photo]
9:20-10:10

Keynote Lecture 3: Materials for Students

Maria G. Bartolini Bussi (Universita di Modena e Reggio Emilia, Italia)
Instruments and Textbooks in the Mathematics Classrooms: a Didactical Analysis
  [Presentation]   [Paper]   [Photo]

10:20-11:10

Keynote Lecture 4: Materials for Teacher Education

Abraham Arcavi (The Hebrew University of Jerusalem, Israel)
Learning to listen: From the RhindPapyrus to classroom practice
  [Presentation]   [Paper]   [Photo]

11:20-12:30

Keynote Lectures: Remarks from Project Side

Marcela Santillan and Tenoch Cedillo (Ministry of Education, Mexico)
Lesson study and Teacher Education in Mexico
  [Presentation]         [Photo]
Raimundo Olfos (Universidad Catolica de Valparaiso, Chile)
Lesson Study in Chile: The lesson of a collaboration Program
  [Presentation]   [Paper]   [Photo]

12:30-13:45
Lunch Break


(Lunch Meeting with Lunch Box (1000Yen): Only for Specialists About this year's work (2): Chair Lim Chap Sam)

 
Chair: Tadayuki Kishimoto (University of Toyama, Japan)   [Photo]
13:45-16:45

Lectures: Project of Teacher Education in Each Economy Focused on Materials




25 min. each

Hee-Chan Lew (Korea National University of Education, Korea)
Roles of Teacher's Guidebook for Good Teaching Practice in Mathematics
  [Presentation]         [Photo]
Yun Peng Ma (School of Education, Northeast Normal University, P. R. China)
An Analysis on the Preparation of Elementary Mathematics Teacher in Mainland China
  [Presentation]   [Paper]   [Photo]
Cheng Chun Chor Litwin (The Hong Kong Institute of Education, Hong Kong)
Mathematical Thinking through investigation in multiplication For Primary Teacher Education programme in Hong Kong
  [Presentation]   [Paper]   [Photo]
Marsigit (Department of Mathematics Education, Faculty of Mathematics and Science, Yogyakarta State University, Indonesia)
Developing Teacher Training Textbooks for Lesson Study in Indonesia
  [Presentation]   [Paper]   [Photo]
Peter Gould (NSW Department of Education and Training, Australia)
Fraction notation and textbooks in Australia
  [Presentation]   [Paper]   [Photo]
Ivan Vysotskiy (Moscow Government: Department of Education, Moscow Institute of Open Education, Russia)
Teachers Retraining and Skill Increasing System in Russia
  [Presentation]         [Photo]

 
Chair: Anchalee Tananone (Chiang Mai University, Thailand)   [Photo]
16:55-17:20

Reports for Planning the Lesson Study for This Year




In relation to Assessments:
Soledad Ulep (University of the Philippines national institute for science and mathematics education development)
Using Assessment to Improve Classroom Teaching through Lesson Study
  [Presentation]         [Photo]

In relation to Materials:
Ui Hock CHEAH (Regional Centre for Education in Science and Mathematics (RECSAM), Penang, Malaysia)
Assessment in Primary Mathematics Classrooms in Malaysia
  [Presentation]   [Paper]   [Photo]

17:20-17:30

Resume and Concluding Remarks for Next Step

Anchalee Tananone (Chiang Mai University, Thailand)
APEC . CHIANG MAI International Symposium 2010
  [Presentation]         [Photo]
Masami Isoda (University of Tsukuba, Japan)
                 [Photo]
Important Days
January 10, 2010
Determine speakers and APEC HRD 01/2010s Specialists invited by University of Tsukuba
January 22, 2010
Deadline for accepting APEC specialists supported by each economy to prepare accommodation
February 13, 2010
Deadline for submission of the conference paper
Further Information and Contact Persons
Contact Persons about the conference
General Chair:
Masami Isoda (Project Overseer)
Supporting Staff:
Masaru Sanuki
Mari Usami
Administration and accommodation booking:
Mie Kominami
---